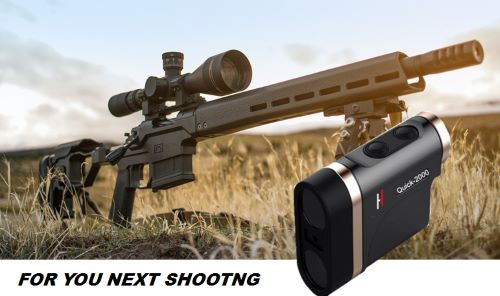 Welcome to visit the only one manufacturer&official website.
Henrich TechnologyQUICK Ballistic Rangefinder powered by Applied Ballistics. Henrich Ballistic Rangefinder provides ballistic solutions out of the box to 875 yards and 1500 yards, pair with smart phones to facilitate setting and data input.Bluetooth function will realize the data input from the smart phone, such as gun type, bullet model, wind speed, temperature, humidity, air pressure and other parameters related to trajectory to the ballistic chip in the range finder, after the rangefinder measuring the distance, in less than a second, the ballistic chip quickly calculates the trajectory correction value, and displayed it on the display screen of the rangefinder to tell the shooter the most accurate Intuitive MOA or MIL values. Henrich Ballstic Rangefinders and related APP are compatible with IOS 13 or above and Android 6 or above and upgraded version of Applied Ballistics. Henrich ballistic rangefinders and Applied Ballistics provide ballistic solution, the current ballistic distance is 875 yards and 1500 yards.
What our customers like:
Highlights of ballistic rangefinders:
a.AB Ballistics Engine: most accurate and professional ballistic solver on the market.
b.Embedded Applied Ballistics version of Ultralight or Sportsman with bullet database and support for G1/G7 and AB custom drag curves.
c.875 yards or 1500 yards ballistic distance optional.
d.As far as to 2200 yards ranging distance.
e.Free downloadable Applied Ballistic BOSS app: you may able to search"henrich boss" at Google Play or Apple Store.
f.The smallest target can be detected: accurately measuring even on the dimension of 1X1 meter at 1400 meters ranging distance.
g.With RED/BLACK HD-LCD display, the color of screen can be automatically switched follow by the light conditions: red in dark, black in light.
h.4.0 Bluetooth connectivity.
i.Support for guns, rifle, bow and etc.
j. Ranging distance for your options: 0-800, 0-1000, 0-1200, 0-1500, 0-2000, 0-2200 yards.
k.Yards/Meters switched.
Quality Guaranteed:
6-month full replacement, 2-year warranty, and lifetime maintenance.
Henrich QUICK ballistics rangefinder powered by applied ballistics which provides convenient and accurate trajectory correction value for your best shooting game.OEM, ODM, Customization acceptable.